Homemade Musical Instruments — Xylophone — Bells — Chimes
Tubular Glockenspiel
This page is designed to help you build and play a beautiful sounding homemade glockenspiel out of metal tubing. On this page you will see: 1) a Virtual Glockenspiel that you can hear and play right now; 2) directions on how to build a 5-note Glockenspiel; and 3) information on building and playing an 8-note Glockenspiel. Also, if you're participating in Science Olympiad, be sure to check out our 2014 Science Olympiad Addendum. So take a couple of minutes, play the virtual glockenspiel, learn how to make your instrument, and discover all of the great songs your homemade glockenspiel can play.
Our Virtual Glockenspiel plays the 1st, 2nd, 3rd, 5th & 6th notes of the Major Scale. It's called the Pentatonic Scale (see below).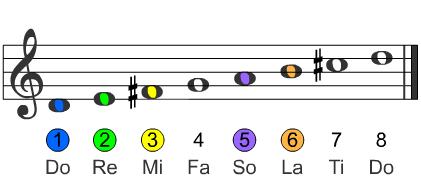 As you will hear, this homemade glockenspiel sounds just like a set of bells or chimes. Also notice: the longer the tube, the lower the pitch — the shorter the tube, the higher the pitch. When you play the activity (below), you're hearing the actual sounds I recorded with my instrument.
Start by clicking your mouse on each tube. Then, choose a song and start playing. If you would like to make this instrument, just follow the directions below.
Building a 5-note Glockenspiel
| | | | |
| --- | --- | --- | --- |
| | Inches | Centimeters | |
| D | 11 15/16 | 30.4 | 1 |
| E | 11 1/4 | 28.6 | 2 |
| F# | 10 9/16 | 26.8 | 3 |
| A | 9 11/16 | 24.6 | 5 |
| B | 9 1/8 | 23.2 | 6 |
Get ten feet of 1/2-inch Electrical Metallic Tubing (EMT) pipe — also referred to as Electrical Conduit, or EMT Conduit.
1) With a metal pipe cutter (not a hacksaw), cut the tubing into the five sections listed on the left (some full-service hardware stores will do this for you).
2) Arrange your tubes as shown so that the longest is on the bottom and the shortest is on top.
3) String the tubes together (simple knots will do) along both sides so there are 2 inches between each tube. You may also place the tubes on two pieces of felt or foam rubber.
4) Try different "mallets" (metal/wood/plastic) to obtain a variety of timbres.
If you would like to build an 8-note glockenspiel that plays many more songs, see below.
Building an 8-note Glockenspiel
Phil and his daughter, Sarah, have created a special resource on building and playing a homemade glockenspiel. It includes step-by-step instructions, sheet music written in treble clef, and play-along music tracks. It has everything you need to be successful with your project, from beginning exercises to duets and quartets you can play with your friends. Just like our homemade water bottle xylophone, panpipes, fraction tubes, melodic tube drums, and didgeritubes, our glockenspiel is tuned to play an 8-note scale in the key of C — and if you want more than 8 tubes in your set, check out our new Science Olympiad Addendum!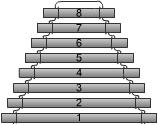 "Building and Playing a Tubular Glockenspiel" by Phil & Sarah Tulga

Phil's daughter, Sarah, guides you step-by-step in building a beautiful sounding glockenspiel made from Electrical Metallic Tubing (EMT) pipe. She provides exact measurements and playing tips so your tubes vibrate correctly and sound in-tune.

You will learn special exercises to develop your playing technique, and some great songs to play by yourself and with your friends. To help you learn faster, Phil and Sarah have included sheet music written in treble clef, and play along tracks for each song.

It's the perfect project for scouts who are making a homemade instrument. In fact, you will see many scouting songs in this package. Homeschoolers will also enjoy the project as a cross-curricular activity on math, measurement, music, and the physics of sound. If you're building an instrument based on the 2014 Division B Science Olympiad Competition, please see the addendum below.

This complete package (including step-by-step instructions, playing tips, exercises, songs, duets, quartets, and the 2014 Science Olympiad Addendum) costs only $14.95.

To download this PDF book on "Building and Playing a Tubular Glockenspiel" along with all the music tracks, just click the "Buy Now" button below.

Table of Contents

Page

I. Preparing your materials
- Table: exact water measurements for each tube
II. Building your Glockenspiel
III. Playing your Glockenspiel
IV. Playing techniques
- Scale, Counting rhythms
V. Beginning songs
- When the Saints Go Marching In
- Lightly Row
- Go Tell Aunt Rhody
- Matarile (folk song from Mexico)
- Oh Susanna
VI. Intermediate songs
- Ode to Joy (Beethoven)
- Song of the Dragon (Chinese New Year song)
- Camptown Races
- Oh My Darling Clementine
- Tue Tue (folk song from Ghana)
- This Land is Your Land
- On Top of Old Smokey
- Daisy / Bicycle Built for Two
- Home on the Range
VII. Playing with a friend
- Hot Cross Buns (duet)
- Mary Had a Little Lamb (duet)
- Yankee Doodle (duet)
- Good Night Ladies (duet)
- Shoo Fly, Don't Bother Me (duet)
- Jingle Bells (duet)
- Jolly Old St. Nicholas (duet)
VIII. Playing with four or more
- Row Row Row Your Boat (4-part round)
- Frère Jacques / Are You Sleeping (4-part round)
- Taps
IX. 2014 Science Olympiad Addendum

2

3
4
5

6





8









13







16

17
2014 Science Olympiad Addendum


If you would like to build a percussion instrument for the 2014 Division B Science Olympiad Competition, Phil and Sarah have now included all of the tube lengths to make "Instrument 1" for the Sounds of Music event. In their addendum, you will learn the pitch names, exact pipe lengths (in centimeters), and frequencies (in Hertz) for all 27 notes in the "allowable scoring range" between F3 and G5. The pipe lengths are tuned and calibrated to an "A-440", and the frequencies they produce are precisely based on the "12 tone tempered scale." Additionally, you will learn exactly which tubes to play for the required "F Major Scale (F4 to F5)", as well as the formula for equal tempered tuning. This addendum is now included at no extra charge in the above package, "Building and Playing a Tubular Glockenspiel" by Phil and Sarah Tulga.

Also, see Phil and Sarah's Melodic Tube Drums, Didgeritubes, and Panpipes to read about other instruments that meet the 2014 Science Olympiad requirements.

Sarah Tulga
Science Olympiad
National Medalist
in Sounds of Music
Copyright © 1998-2020 Phil Tulga



Web Design by DT Tech