Reading for Meaning
– comprehension strategies through music and sound –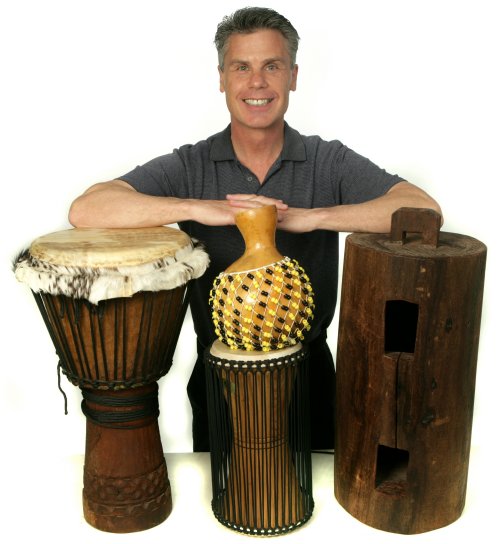 Phil uses African drums, rhythms and storytelling
to teach reading comprehension strategies!
Definition: noun
1. A gathering of students during the day for an interactive program on reading comprehension; includes African drums, rhythms, and storytelling, entertaining sound effects, TV show games, and one box of animal crackers.
2. A gathering of parents and students during the evening for a follow up program on reading comprehension; includes instrument making, interactive stories from Australia and Vietnam, and classic radio broadcasts and sound effects.
ASSEMBLIES
– Reading for Meaning –
Phil begins the program with an entertaining musical activity entitled "Reading for Meaning" that highlights three comprehension strategies: sequence, inference, and prediction.

Following this introduction, he demonstrates how to apply these strategies by retelling the classic Rudyard Kipling tale that explains how the elephant got its trunk—complete with African drums and rhythms, interactive questions, story mapping ideas, and think-aloud games.
After the kids learn how to apply these strategies to a traditional story, Phil transitions to what he calls a sound story—a story made up completely of sound effects. As the students listen intently to thunderstorms, barking dogs, and race cars, they also learn to connect their knowledge of sequence, inference, and prediction, to the sounds in their world.

Australian Didgeridoo
Lastly, Phil demonstrates a variety of fun reading comprehension games the kids can play with their friends and families.
As with all of his programs, Phil integrates teaching through the Arts in a way that supports the California State Standards, while meeting the needs of students with diverse learning styles.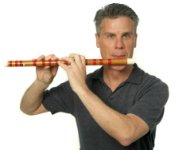 Phil uses a bamboo Hmong flute called a Sao to reanimate the Vietnamese story, Uncle Toad, at the Story Reading Night.
FAMILY ACTIVITY NIGHTS
– Story Reading Night –
Invite your families back to school for this wonderful hands-on activity night on reading.

At Phil's new Story Reading Night, the kids build their own didgeridoos, and then retell an ancient musical story from Australia called The First Didgeridoo.
They also make toad croakers, bee buzzers, and duck quackers, and join together for an interactive Vietnamese musical story called Uncle Toad.
Phil also shows parents how they can help their kids become better readers by playing comprehension games at home.
Finally, they finish off the night with a sound effects concert featuring some of Phil's favorite old-time radio broadcasts!
PRICING
Assemblies are $725 for two 50-minute presentations within a 2-hour timeframe.
Family Activity Nights are $725 for one 2-hour presentation.
Assembly/Family Night combinations are $200 off—now only $1250.
In-Class Field trips are $550 for 2-3 classes in a 2-hour timeframe.
There is an additional travel charge for schools more than 1 hour from downtown Sacramento, California.
ONLINE ACTIVITIES
The following multimedia activities relate to this program:
Copyright © 2001-2015 Phil Tulga



Web Design by DT Tech