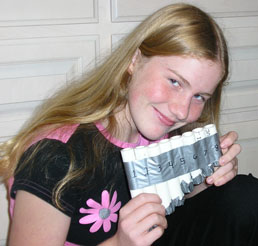 Come and join Phil's daughter, Sarah, as she builds a working 8-note set of panpipes out of PVC sprinkler pipe. She shows you how to prepare your materials and guides you step-by-step in assembling your instrument. She also covers a number of helpful tips on how to play your panpipes so you will sound your best.
You will learn special exercises to develop your playing technique, and some great songs to play by yourself and with your friends. To help you learn faster, Phil and Sarah have included sheet music written in treble clef, and play-along tracks for each song.
It's the perfect project for scouts who are making a homemade instrument. In fact, you will see many scouting songs in this package. Homeschoolers will also enjoy the project as a cross-curricular activity on math, measurement, music, and the physics of sound. If you're building an instrument for the 2014 Division B Science Olympiad Competition, please see the addendum below.
This complete package (including step-by-step instructions, playing tips, exercises, songs, duets, quartets, and the 2014 Science Olympiad Addendum) costs only $14.95.
To download this PDF book on "Building and Playing Panpipes" along with all the music tracks, just click the "Buy Now" button below.
Table of Contents
Page

I. Preparing your materials
II. Building your panpipes
III. How to play your panpipes
IV. Playing techniques
- Scale
- Take Big Breaths
- Tonguing Exercise
V. Beginning songs
- When the Saints Go Marching In
- Lightly Row
- Go Tell Aunt Rhody
- Matarile (folk song from Mexico)
- Oh Susanna
VI. Intermediate songs
- Ode to Joy (Beethoven)
- Song of the Dragon (Chinese New Year song)
- Camptown Races
- Oh My Darling Clementine
- Tue Tue (folk song from Ghana)
- This Land is Your Land
- On Top of Old Smokey
- Daisy / Bicycle Built for Two
- Home on the Range
VII. Playing with a friend
- Hot Cross Buns (duet)
- Mary Had a Little Lamb (duet)
- Yankee Doodle (duet)
- Good Night Ladies (duet)
- Shoo Fly, Don't Bother Me (duet)
- Jingle Bells (duet)
- Jolly Old St. Nicholas (duet)
VIII. Playing with four or more
- Row Row Row Your Boat (4-part round)
- Frčre Jacques / Are You Sleeping (4-part round)
- Taps
IX. 2014 Science Olympiad Addendum

2
3
4
5



6





8









13







16



17