Math, Science & Technology
- energy and fractions -
This program is not being offered at this time. Please see Phil's new outdoor in-person presentation and his virtual programs.
Phil shows how energy can be converted into multiple forms using an iPad, a flashlight, and a solar cell.
ASSEMBLIES
– Math, Science & Technology –
Phil's dynamic new presentation on Math, Science and Technology blends hands-on experiments, webinars, mobile apps, Peruvian music, and a fun collection of technology tools.
Using a sound cannon, he starts off the program by showing how we use and measure energy every day. Then, he demonstrates how energy can be converted into multiple forms, by transmitting sound over a beam of light, using a flashlight, an iPad, and a solar cell.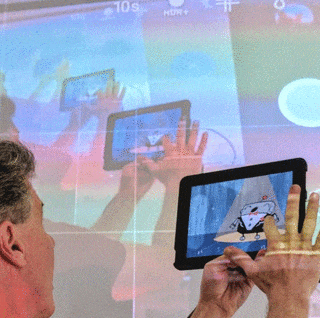 Finally he shows how energy forms equivalent fractions on musical instruments, and then uses his iPad to play musical fractions with the students' voices.
FAMILY ACTIVITY NIGHTS
– Math and Science Night –
Invite your families back for a fun and entertaining musical presentation on the math and science.
Phil guides everyone through an enriching series of hands-on FOSS experiments and Exploratorium displays.
Then, the students apply their knowledge by making rhythm and string instruments and joining together for an exciting concert featuring Dragon Dance Drumming from China!
PRICING
Assemblies are $725 for two 50-minute presentations within a 2-hour timeframe.
Family Activity Nights are $725 for one 2-hour presentation.
Assembly/Family Night combinations are $200 off—now only $1250.
In-Class Field trips are $550 for 2-3 classes in a 2-hour timeframe.
There is an additional travel charge for schools more than 1 hour from downtown Sacramento, California.
Please see here for pricing on Virtual Assemblies.
ONLINE ACTIVITIES
The following multimedia activities relate to this program:
Copyright © 2002-2020 Phil Tulga