Rhythms of Language
- a musical exploration of vocabulary development -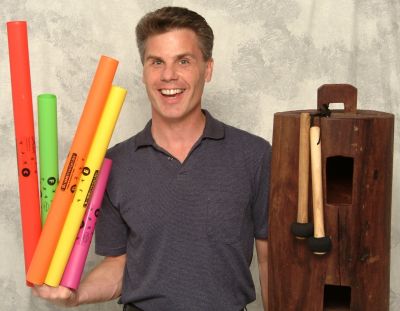 Phil uses Boomwhacker tubes and African
log drums to show how people convey
context through phrases.
Read the question below carefully. Using only a number 2 pencil, fill in the bubble completely.
Question 1. How can your school highlight vocabulary skills and comprehension strategies with your entire student body? It must be fun, engaging, and standards-based.
| | | |
| --- | --- | --- |
| | A. | Rhythms of Language Assemblies |
| | B. | Rhythms of Language Family Night |
| | C. | both A and B |
| | D. | all of the above |
ASSEMBLIES
In Rhythms of Language, Phil supports your students' vocabulary development and comprehension strategies by demonstrating how people from around the world use the elements of language to convey meaning through spoken and written words. Specifically, he shows how we:
• use the alphabetic principle to decode unfamiliar words;
• recognize a common set of high frequency words; and
• figure out the meaning of words using vocabulary-in-context with phrases and sentences.
Phil has fun with the
Alphabetic Principle by playing
International Morse Code rhythms
on a Latin American Guiro.
Phil begins the program with an action packed musical presentation entitled "How We Learn New Words" that guides your students through the basic steps of vocabulary development.
After this, he takes your students on a multimedia journey that starts onboard NASA's Voyager space probe. Your students will see actual pictures, and hear messages from NASA's Golden Record—a multimedia collection showing how humans communicate through spoken and written language.
Phil plays
"Name That Word" with his computerized trumpet.
Before the journey is over, they will visit many places from the city of London to the Congo River in Africa. At each stop, they will expand their ideas about how language works, and how we can develop our vocabulary by continually learning through our everyday experiences.
FAMILY NIGHTS
At the Rhythms of Language family night, Phil shows parents how to help their kids increase their vocabulary and become better readers through a variety of entertaining games and activities. Then the kids make their own Tubongus, Card and Comb Guiros, and Parade Trumpets, and join together for an exciting concert of music, movement and language. They perform authentic African talking drum phrases on their Tubongu drums, and play Phil's Morse Code Mambo with their Card and Comb Guiros. Then, for the final piece, they play their Parade Trumpets in a giant conga line!
ONLINE ACTIVITIES
The following multimedia activities relate to this program:
| | |
| --- | --- |
| | Drum Language of the Congo |
| | Drum Language in Ghanaian Schools |
| | Morse Code Music |
Copyright © 2005 Phil Tulga


Web Design by DT Tech